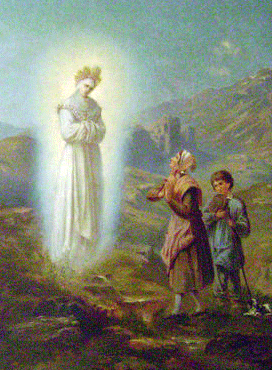 ---
Michael H. Brown retreat, living in prophetic times, Cincinnati, Feast of LaSalette, September 19
---
Cloister in New Jersey attracting college-educated millennials
---
Upheaval watch: invoking Saint Michael for our police
---
Activist priest fans flames of hate against police
---
Muller warns of German power grab in Church
---
Our Lady's miracle on a mountain
---
---
Retired bishop punched on train
---
More papal tickets released after outcry
---
What to expect during the Pope's trip: a rundown on events
---
Papal decree on forgiving abortion has only to do with excommunication
---
Look at what the Pope will sit on in New York
---
Occult watch: warnings for the 'Burning Man'
---
Pope about to wade into America's turbulent waters
---
Spirit Daily pilgrimage: to Lourdes, Fatima, Avila
---
Benedict gives homily on interior evil
---
Meditation: saints of the day
Daily Prayer
Mass readings
Homily of the Day
Vatican Videos
Scriptural Rosary
Mary's Messages
Saint Michael Novena
---
Donations: we need and appreciate it!
---
---
[Click here to make announcements or banner and larger
ads]
What if a crisis occurs and there's no doctor?
Saint Philomena - Get the facts directly from the custodian of her shrine in Italy
St. Benedict Blessing - Armor for the spiritual battle
F. Carmine Cucinelli, guardian of the 'veil of Mannopello,' will be in Vancouver Friday and Saturday; for info click here
[See next column]

[Please note that we cannot be responsible for all products, pilgrimages, and claims made by above announcements]
---
---
---
Horror: research was done on babies aborted due to Down syndrome
---
Health watch: ways you age your skin
---
---
Flashback: Father Esper's book on spiritual dangers
---
Click to e-mail this site to a friend
---
---
206 Tours Pilgrimages -- the Holy Land, Italy, Fatima, Lourdes, Medjugorje, Poland, year round with Catholic priest and Mass daily
'Medjugorje is the spiritual center of the world'--St. Pope John Paul II, Be Connected!
See how a mother of 13 lost almost 100 pounds!
My Catholic Tube: Top destination for Catholic videos
Free Spiritual Guidance Series. It's a lifechanger!
Upcoming Synod: Prayer changes everything
New special report: Alleged prophets, messages: Korea, the economy a 'great storm'
---
copyright
SpiritDaily
The eerie parallels between U.S. and fall of Rome
---
New world watch: thousands of migrants reach Austria
---
Hints of what the Bilderbergers discussed?
---
---
Report: Chinese warships were within twelve miles of U.S. shore
---
Republican donors trying to stop Trump
Report: bodyguard punches protester
---
Near-deather saved in 'misty place' by 'Blood of Christ'
---
Pope's visit bring unprecedented security issues
---
---
Archbishop of Philadelphia 'scolds' Trump
---
---
The cities Americans are leaving
---
Does 'bitter melon' shrink cancer, tackled diabetes?
---
A psychic with a box full of Swiss gold
---
---
Michael Brown: CD of New Orleans retreat
---
---
Click here to make announcements, banner, or (new) large ads]
What You Take To Heaven on Kindle
and Nook;
Fear of Fire on Kindle; A Life of Blessings on Kindle,  Nook; The Other Side on Kindle, Nook; Life Missions, Family Healings on Kindle, Nook; The God of Miracles on Kindle, Nook; Tower of Light on Kindle, Nook;  The Spirits Around Us on Kindle, Nook;  After Life on Kindle, Nook; The Seven on Kindle 
---
Boo

k specials
 

Books by Michael Brown
Spirit Daily: emergency supplies store 
Spirit Daily on Twitter  Spirit Daily on Facebook  Click here to refresh Spirit Daily; Spirit Daily is operated seven days a week and all day; in event of outage go to www.spiritdaily.net or www.spiritdaily.org
---